International Student Fee 
Effective Fall 2017, the University of Maryland will charge a fee of $125 per semester for all newly enrolled, full time international students; students who are neither U.S. citizens nor permanent residents. Part time students will be assessed $62.50 per semester. UMD will use the revenue from this fee to enhance support for our international students, improved academic support, and expanded assistance for students transitioning to the U.S. and international student-focused cultural events to foster an engaged, supportive community. 
---
Pay through Flywire
The University of Maryland now has a third party vendor, Flywire, as the official provider used for all international payments.  We are no longer able to accept traditional wire transfers due to the increased fraudulent activity associated with them.  Listed below are several of the benefits to using the Flywire service over a traditional bank wire transfer
UMD Flywire is a payment option you can select from the drop down box of choices after logging in to the make a payment page found: HERE
International payments through Flywire are secure and eliminate hidden bank fees and ensure that the exact amount you are requesting to pay is what UMD receives. 
Save on exchange rates – in most cases you can make a payment in your home currency. Flywire will process the currency exchange – offering you wholesale exchange rates, unmatched by traditional banks.
24/7 multilingual customer support when you need it most. Know where your payment is in the bank transfer process.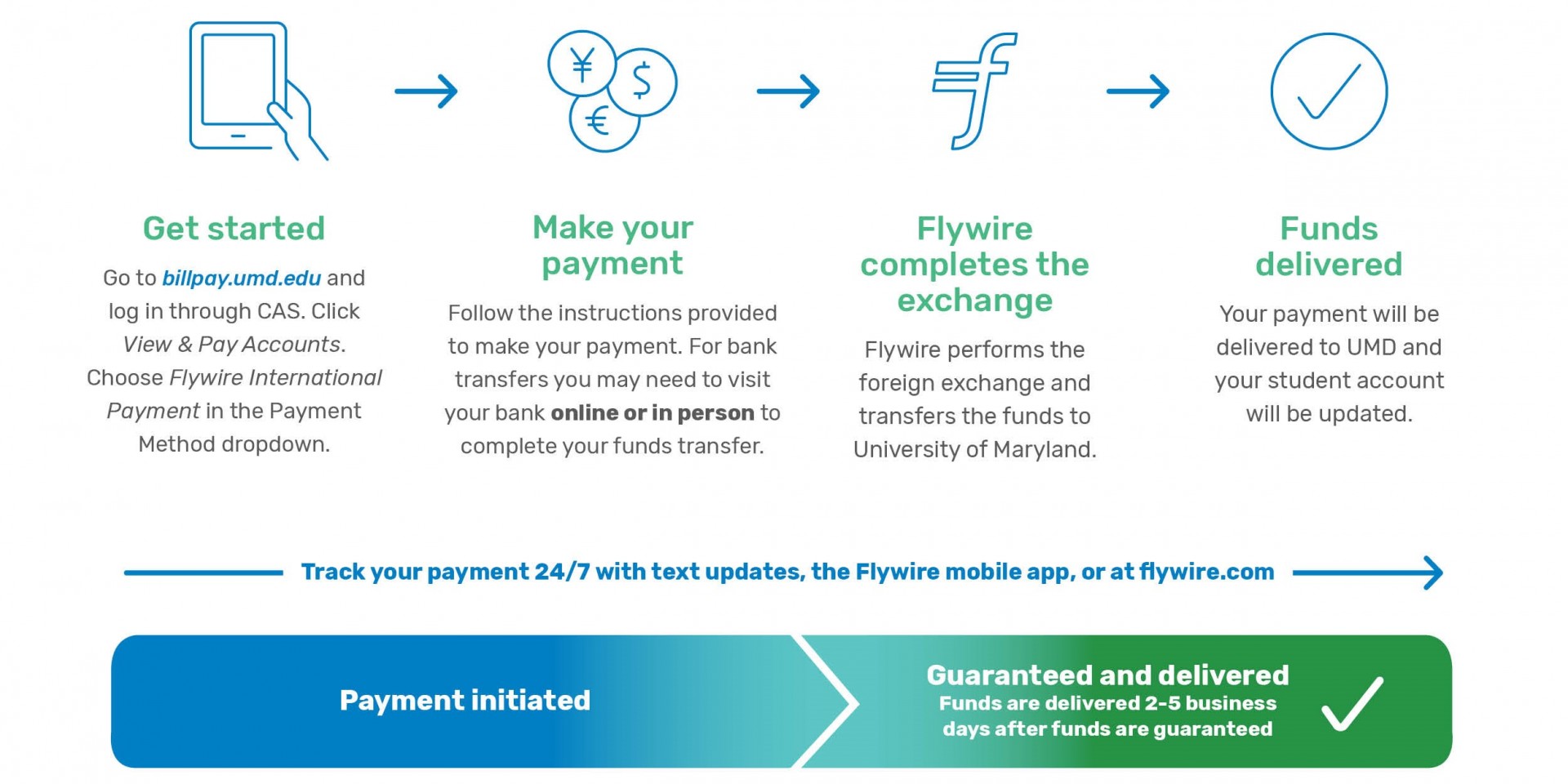 Paying from China - Frequently Asked Questions
Paying from India – Frequently Asked Questions
For assistance with Indian Bank Loan Applications:
UMD's approved international payment processor, Flywire, is partnered with the State Bank of India (SBI) to make the loan application process seamless and straightforward. To get started and request more details, go to www.flywire.com/sbi to enter your information and Flywire's local partner in India will contact you with next steps.
Flywire Multilingual Customer Support 24/7
Phone: +1 800 346 9252 (International Numbers Here)
Email: support@flywire.com
Note: Please allow at least 10 business days from the time the actual transfer from your home institution occurs until it is visible on your student account activity page